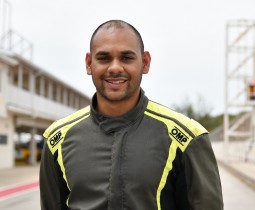 Caribbean Cup Stats:
21 races, since July 2018
1 podium, best Q2
RCC19 – 7th; RCC18 –9th
Career Highlights:
TTASA Group 2 Champion 2017
T&T Shifter Kart Champion 2010, Rotax Champion 2009
T&T Scalextric Champion of Champions, aged 10
Sponsors
Bhola's Marketing Ltd.
Fast Parts
Torco Race Fuels
Richtune Performance
Garage 61
TechPoint Tuning
Motul 
Bio:
While Luke Bhola's journey towards racing cars has followed a conventional path including success in karts, he began even earlier that that, at age five, when he won the first of many titles (the Under-10 category) in his home country's National Scalextric Championship; he was Under-15 Champ the following year,Under-19 Champ at age seven, then Champion of Champions at age 10. He continued to compete in the Caribbean Championships, and also in karts, in which he was Rotax Champion in 2009, then won the Shifter title in 2010.Since Wallerfield came back on stream, he has been a front-runner in local Group 2 in a Honda Civic, joining the Caribbean Motor Racing Championship from 2016; domestic Gp2 Champion in 2017, he is a CMRC pole-sitter, race-winner and podium finisher in Jamaica or T&T. With team-mate Kristian Boodoosingh, he also raced in endurance events at Sebring in the United States.