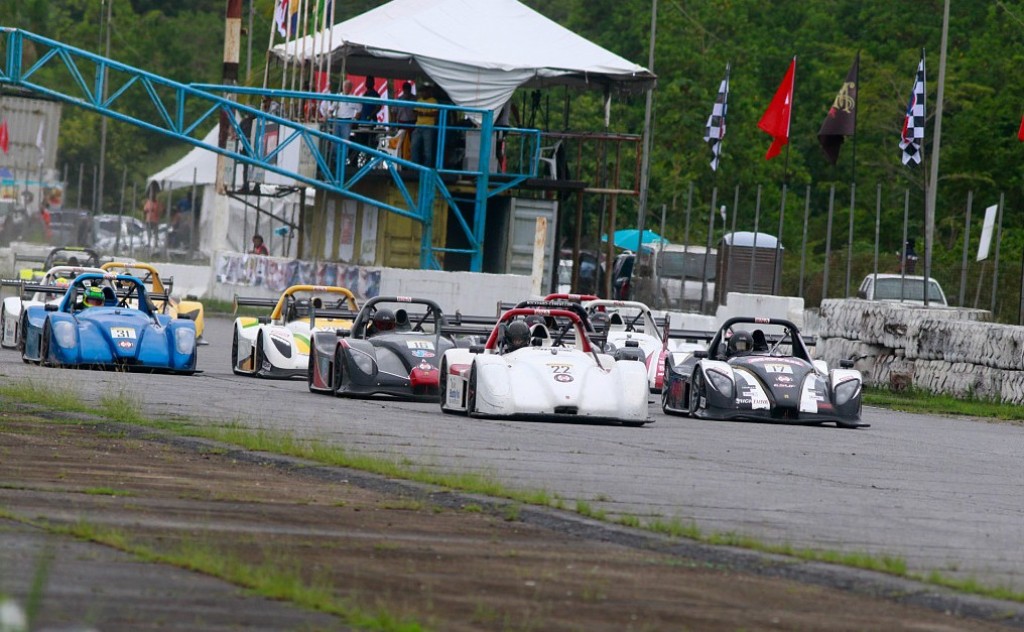 Radical Cup headlines 20-race Fast Parts Race Meet
The first-ever double-header for the Radical Caribbean Cup (RCC), which showcases the fastest race cars in the region, headlines an action-packed 20-race programme at the Frankie Boodram Wallerfield International Raceway next weekend (July 22/23). Sponsored by Fast Parts Caribbean and organised by the Trinidad & Tobago Automobile Sports Association's (TTASA), the provisional schedule features more than 16 hours of track action over two days.
  Following the postponement of the originally-scheduled June fixture at Wallerfield, there will now be six races for the Suzuki-powered Radical SR3 sports racers. After Free Practice and Qualifying, round two of the RCC will run off on Saturday, with three 15-lap races on the 1.4-kilometre circuit. On Sunday, there will be separate Practice and Qualifying sessions for the regional competition's third round, followed by three more races, the feature events on an action-packed 17-race schedule, which also includes TTASA's regular national categories on two and four wheels.
  The five-round series is currently being led by T&T hotshot Kristian Boodoosingh, who finished runner-up last year to Guyana's Kristian Jeffrey. After this season's opening round at Bushy Park Barbados, where he won twice, 'Boodoostig' leads the standings with 61 points, 15 ahead of Jamaican teenager Tommi Gore, with Justin Maloney, the only Barbadian to finish all three races, third with 32 points. In the Nations Cup, Trinidad & Tobago has 68 points, a 13-point lead over Barbados, with Jamaica third on 51.
  When the RCC visited Wallerfield in October last year, Barbadian Zane Maloney won twice and set new Qualifying and Race Lap Records, appearing as a non-scoring guest driver; he will not be returning this year, as he is busy with his FIA Formula 2 campaign with Rodin Carlin, celebrating a second-place finish, his best of the season so far, at last weekend's British Grand Prix. He goes on to race in Hungary and Belgium before the end of July.
  With the other race victory and two second places behind Maloney, Boodoosingh gave his home crowd and principal sponsors much to celebrate last year, collecting maximum championship points, and local fans will be looking for a similar result next weekend. While 18-year-old Gore will be racing at Wallerfield for the first time, his father Doug knows the venue well from his days as a competitor in the Caribbean Motor Racing Championship (CMRC), a title he claimed twice.
  Since the first-ever RCC races were run at Wallerfield in June 2018, there have only been three Champions, as two seasons were lost to the coronavirus pandemic: Stuart Maloney of Barbados and Jamaica's William Myers won in 2018 and 2019, with Guyana's Jeffery beating Boodoosingh to the title in 2022 by the smallest winning margin so far, just five points. Last year's inaugural Nations Cup was even closer-fought, Guyana beating Barbados by a single point.
Provisional Timetable for RCC rounds 2 & 3:
Saturday – round 2
09:30 – 10.00: Free Practice
11.15 – 11.30: Qualifying
12.10: Race 1 (15 laps) – grid based on Qualifying
13.40: Race 2 (15 laps) – reversed grid
15.20: Race 3 (15 laps) – grid based on points scored in Races 1 & 2
Sunday – round 3
08.15 – 08.15: Free Practice
08.45 – 09.00: Qualifying
11.20: Race 6 (15 laps) – grid based on Qualifying
14.35: Race 13 (15 laps) – reversed grid
17.10: Race 20 (15 laps) – grid based on points scored in Races 1 & 2
Driver points after round 1:
1st Kristian Boodoosingh (T&T) 61 points
2nd Tommi Gore (JAM) 46pts
3rd Justin Maloney (BAR) 32pts
4th Mark Maloney (BAR) 31pts
= 5th Suleman Esuf (BAR) & Stuart Maloney (BAR) 30pts
7th Sean Maloney (BAR) 25pts
Nations Cup points after round 1:
1st Trinidad & Tobago 68 points
2nd Barbados 55pts
3rd Jamaica 51pts
Radical Caribbean Cup 2023 – remaining rounds:
Rounds 2 & 3 – July 22/23, Frankie Boodram Wallerfield International Raceway (TTASA)
Round 4 - September 3, Bushy Park Barbados (BPMSI)
Round 5 – November 24, Bushy Park Barbados (BPMSI)
For media information only. No regulatory value
For more information on Bushy Park Barbados:
www.bushyparkbarbados.com or Facebook.com/BushyParkBarbados
For further media information, contact:
Bushy Park Barbados Media Team: e-mail: media@bushyparkbarbados.com