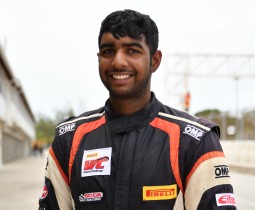 Caribbean Cup Stats:
22 races, since July 2018
3 wins, 7 podiums, best Q2, 1 fastest lap
RCC19 – 3rd; RCC18 – 4th
Career Highlights:
Outright Lap Record holder, Jamwest (Radical SR8)
T&T Drag & Wind Champion 2013
National Youth Award for Sports and Recreation 2013
Sponsors
CR Boodoosingh & Sons Ltd
Fast Parts
Torco Race Fuels
Richtune
Garage 61
TechPoint Tuning
Motul



Bio:
Having started racing karts in 2009, Kristian, aka 'BoodooStig', finished second in the T&T Rotax Championship in 2011 & 2012, with the shifter kart lap record also to his credit. In 2013, he won the T&T Drag & Wind title (a mix of drag racing and dexterity) and a National Youth Award. While continuing in karts, he started circuit racing, at home and in the US, where he has raced Audi R8, BMW M3 and Nissan 370Z in sprint and endurance events. He made his CMRC debut with a Group 4 Mitsubishi Lancer Evo VI in 2014, then runner-up to the dominant Kristian Jeffrey in 2015 and third in 2016. He has since campaigned a Honda Civic (3rd in the TTASA Gp3 in 2019), a Mygale F4 in TTASA Time Attack events and been a race-winner in Jamaica in a Radical SR8, in which he set a new Outright Lap Record at Jamwest.