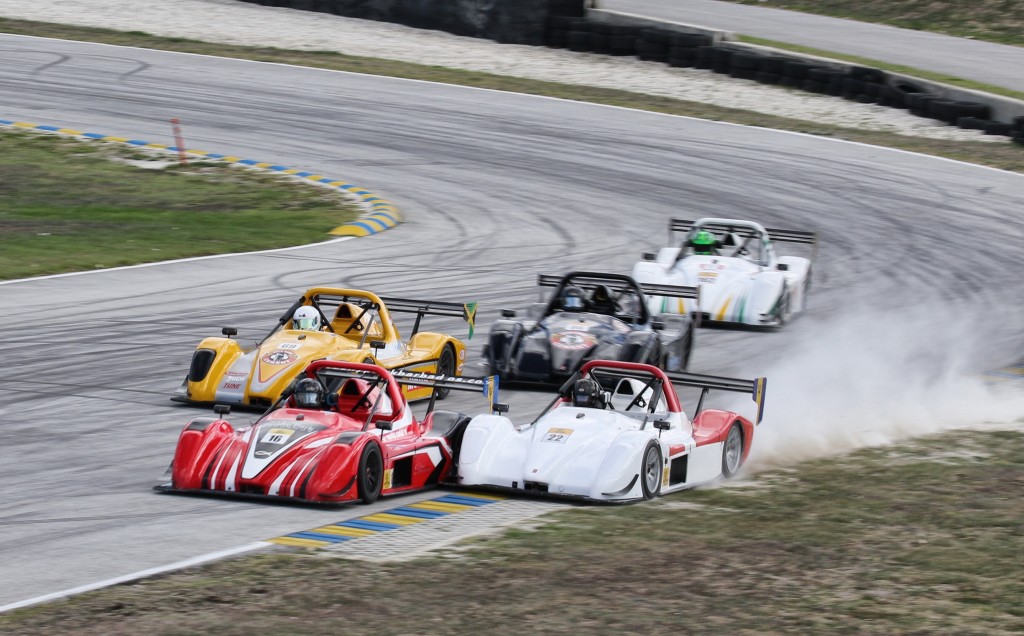 Expanded calendar for Radical Caribbean SR3 Cup in 2020
The Radical Caribbean SR3 Cup is set to expand to six rounds in its third season, visiting all four of the region's long-standing circuit racing venues for the first time. Published today (January 8), the provisional calendar lists two rounds each in Barbados and Trinidad & Tobago, with the traditional final in Guyana and a new Easter date in Jamaica. Ahead of the season, Bushy Park Barbados will this month (January 18/19) host an Engineering & Driver Development Workshop.
  In the first two seasons, there have been eight different winners in 24 races, with 2018 Champion Stuart Maloney of Barbados the most successful over the two years, claiming seven victories and a further six podium finishes, one pole position and four fastest laps. Despite failing to win a race in his debut season, 21-year-old Jamaican William Myers beat the Reigning Champion to the 2019 crown by seven points after an impressively consistent performance netted him nine podium finishes.
  The 2020 SR3 Cup will open in Barbados on March 15 at Bushy Park Motorsport Inc's (BPMSI) first fixture of the new decade, returning for the annual BPMSI International Race Meet on August 29/30. A first visit to the Dover Raceway, hosted by the Jamaica Race Drivers Club (JRDC), is provisionally scheduled for Easter Monday (April 13), while rounds three and four will be staged by the Trinidad & Tobago Automobile Sports Association (TTASA) at the Frankie Boodram International Raceway on June 28 and July 19. The Guyana Motor Racing & Sports Club (GMR&SC) will organise the traditional year-end finale at South Dakota over the weekend of November 7/8.
  Championship Manager Kurt Seabra is looking forward to the new season: "We have always aimed to stage races in all four countries, to reflect our competitor base - drivers from Jamaica, Barbados and T&T finished in the top three positions overall last year after the final round in Guyana. I am delighted that we are returning to the Frankie Boodram International Raceway at Wallerfield, with two rounds on our expanded calendar, and I am hopeful that the discussions we have been having with the JRDC over the past couple of weeks will result in the SR3 Cup's first-ever visit to Dover Raceway being confirmed very soon."
  The Engineering & Driver Development Workshop at Bushy Park next weekend (January 18/19) is aimed at both existing and potential SR3 Cup participants and their pit crews. Organised by Radical Caribbean, the Workshop will be conducted by experienced race engineers and driver coaches from UK-based Kokoro Performance, led by its head of driver development Kieren Clark, who worked closely with Zane Maloney throughout his successful British F4 campaign in 2019.
  Seabra adds: "The main goal of the Workshop is to give teams a better understanding of how to engineer the Radical SR3 to suit the driver's feedback and track conditions, thereby making them more self-sufficient and ultimately create an even more competitive series. There will be classroom sessions and practical work in the pit garages, along with the chance to put what is being learned into practice on the circuit."
  Running to the same rules that have applied in Barbados since the launch of the former Suzuki Challenge Series in 2015, the Radical Caribbean SR3 Cup is a one-make series for the Suzuki-powered Radical SR3 and does not cater for the Radicals of different specifications that are now racing in the region in the hands of drivers such as Kyle Gregg and David Summerbell Jnr; all cars will be scrutineered before each qualifying round to ensure compliance.
Radical Caribbean SR3 Cup 2020
Engineering & Driver Workshop - January 18/19, Bushy Park Barbados (Radical Caribbean)
Round 1 - March 15, Bushy Park Barbados (BPMSI)
Round 2 - April 13, Dover Raceway, Jamaica (JRDC) - to be confirmed
Round 3 - June 28, Frankie Boodram International Raceway, Wallerfield, Trinidad (TTASA)
Round 4 - July 19, Frankie Boodram International Raceway, Wallerfield, Trinidad (TTASA)
Round 5 - August 29/30, Bushy Park Barbados (BPMSI)
Round 6 - November 7/8, South Dakota, Guyana (GMR&SC)
Editor's Note
The Radical Caribbean SR3 Cup is administered by Bushy Park Circuit Inc (BPCI), which was appointed sole distributor for Radical Sportscars in the Caribbean in 2017; based in the East Midlands city of Peterborough, the British manufacturer has built more than 2,000 cars, progressing from the iconic Clubsport model produced in 1997 and which established the company&Otilde's reputation, to the SR8, which brought Le Mans Prototype pace to the UK national racing scene.
For media information only. No regulatory value
For more information on Bushy Park Barbados: