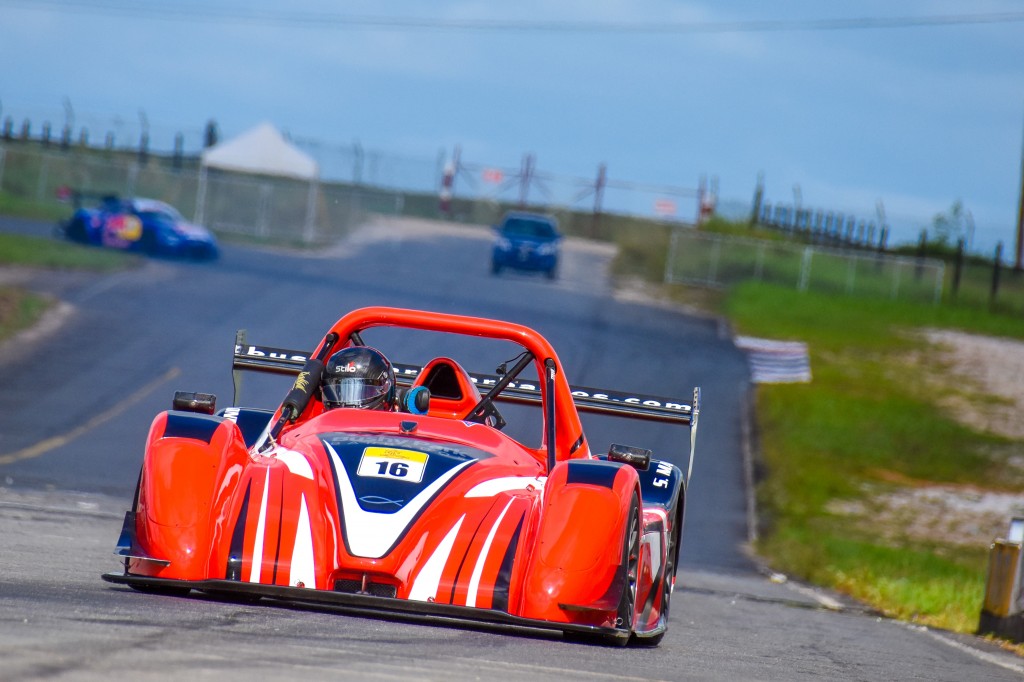 Jamaican twosome join Radical Caribbean SR3 Cup
Double Jamaican Modified Production 2 Champion William Myers and fellow-countryman Horatio Brown will join the grid when the second season of the Radical Caribbean SR3 Cup gets under way at Bushy Park Barbados on Heroes Day Bank Holiday Monday, April 29. They bring to 36 the number of regional and international drivers who have competed in the Suzuki-powered Radical SR3 sports-racers at the St Philip facility.
  Reigning Champion Stuart Maloney of Barbados will return to defend his title, hoping to build on his already impressive record; the only driver to have contested all 73 races since the SR3 Cup was launched in 2015, he tops the race-winners list with 17, although the records for the most additional podium finishes (38), pole positions (8) and fastest laps (21) are all held by his brother Mark, who has won 10 races.
  The Jamaica Race Drivers Club's MP2 Champion in both 2016 and last year, Myers first raced karts in Jamaica in 2008 in the Rotax Minimax class. As he moved through Junior, Senior and Shifter classes from 2009 to 2014, he competed regularly in the USA, including numerous Rotax Grand Nationals, Florida Winter Tour, Rok Cup and Homestead Club races. He switched to cars in 2015, winning his first race in a Honda Civic EG in the Bracket 29 class, moving up to MP2 the following year, winning the class in two of his three seasons. This year he will also be racing an SR3 in Jamaica in the Thundersport 2 class.
  Currently studying International Business at Lynn University in Boca Raton, Florida, the 21-year-old said: "Being based in the Caribbean, this series is easily accessible for me and provides me with more racing experience. The Radical SR3 Cup stood out to me because it was an opportunity to race in a spec series and experience tight competition."
  While ÔRatio; Brown has only limited competition experience, he has been around cars and motor sport for more than 20 years, developing a hobby of data acquisition and high performance tuning in many different areas of the sport into a profession. He was among the technicians from around the region who attended the Radical Caribbean Training course hosted by Bushy Park Circuit Inc (BPCI) in February.
  This season, he will race the Fast Parts/Torco Race Fuels/Richtune/Garage 61/Techpoint Tuning SR3 RS, after impressing the Trinidadian owners in a test weekend at Bushy Park. As he states himself, Brown has "dabbled" in kart racing in Jamaica, running mid-field, but there was a purpose: "It has proven to be very beneficial for work, as well as developing my own skills as a driver. I was using it to learn how to better relate to the drivers, when I interpret data for them."
  He adds: "The Radical SR3 is remarkably easy to drive and I feel very comfortable in it. They are fast and, with knowledgeable technicians, they will deliver years of reliable racing. We will now have the chance to see if the tuner can do what he's been telling the drivers to do for the past few years!"
  Series Co-ordinator Kurt Seabra said: "We are very pleased to welcome our new Jamaican drivers for the first round of the new series. While William is a current racer, with two Championship titles behind him, Horatio has never raced before, but we were pleasantly surprised by his skill and pace during the test weekend and are certain he will soon find his feet, even among the more experienced SR3 Cup drivers."
  The start of the 2019 Radical Caribbean SR3 Cup, originally scheduled for March, was delayed after the Trinidad & Tobago Automobile Sports Association (TTASA) was unable to complete its new arrangements at the Wallerfield Raceway in time. There will now be four rounds, the first three organised by Bushy Park Motorsports Inc (BPMSI) and the final by the Guyana Motor Racing & Sports Club (GMR&SC).
  BPCI was appointed sole distributor for Radical Sportscars in the Caribbean in 2017; based in the East Midlands city of Peterborough, the British manufacturer has built more than 2,000 cars, progressing from the iconic Clubsport model revealed in early 1996 and which established the company's reputation, to the SR8, which brought Le Mans Prototype pace to the UK national racing scene.
  Running to the same rules that have applied to the SR3 Cup in Barbados since 2015, this is again a one-make series for the Suzuki-powered Radical SR3, so does not cater for the Radicals of different specifications that are now racing in the region in the hands of drivers such as Kyle Gregg and David Summerbell Jnr; all cars will be scrutineered before each qualifying round to ensure compliance.
Radical Caribbean SR3 Cup
Round 1 - April 29, Bushy Park Barbados (BPMSI)
Round 2 - June 10, Bushy Park Barbados (BPMSI)
Round 3 - August 31/September 1, Bushy Park Barbados (BPMSI)
Round 4 - November 9/10, South Dakota, Guyana (GMR&SC)
For media information only. No regulatory value
For more information on Bushy Park Barbados:
For further media information, contact Bushy Park Barbados Media Team: