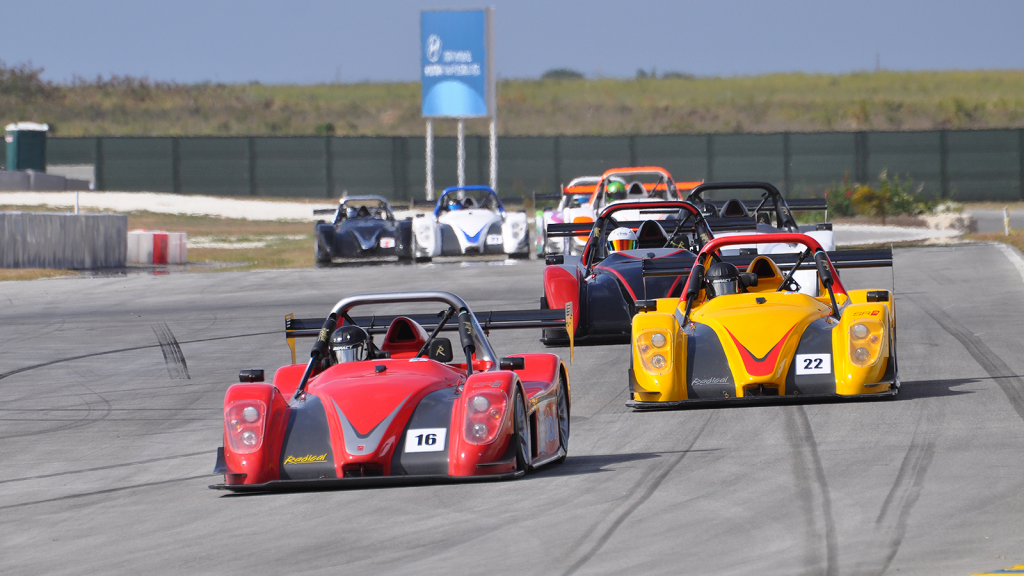 New leaders after Suzuki Challenge Series round two
With two race wins apiece, Ryan Peyrau (Trinidad & Tobago) and Stuart Maloney (Barbados) are the new leaders of the Swift Cup and SR3 Cup, following yesterday's (May 17) second round of the Suzuki Challenge Series at Bushy Park Barbados. The Swift Cup has now risen to a 12-car grid, while both entry lists included new names.
The Swift Cup is for identical production-based Suzuki Swift Sports, race-prepared in Barbados, offering drivers affordable and skill-based racing and fans exciting action. The Suzuki-powered Radical SR3 RS sports racers are the region's fastest race category.
After a determined effort, Peyrau (Team Suzuki) claimed the Swift Cup pole by a remarkable seven-tenths of a second: "Yesterday I walked the track twice. I knew the corners I wasn't doing so well in at the last race meet." The same margin covered the next seven cars, including Swift Cup newcomers Sean Gill (Team Suzuki - fourth), Jason Parkinson (Team Infra Rentals - seventh) and multiple Jamaican Champion David Summerbell Jnr (Team Simpson Finance - eighth).
Wood got the jump on Peyrau at the start, leading a tightly-packed group of Peyrau, points-leader Mark Thompson (Team Rock Hard Cement), who had qualified third, and a fast-starting Josh Read (Team Massy United Insurance) from fifth on the grid. On lap three, Thompson and Wood made contact at the Courtesy Dipper – scene of a similar incident involving different drivers in round one – leaving Peyrau clear to press on for victory, chased home by Read and three-time Bushy Park Champion Karl Waterman, standing in for Kenrick Husbands in the Williams Industries entry.
Wood recovered to finish 10th, with Thompson 12th and last, giving him pole on the reverse grid for race two. Thompson, however, was disqualified from the results for his part in the incident, promoting Wood to second on the grid alongside Freddie Gale (Team Gale's Agro Products), making his debut in the car shared with son Barry.
Wood was not to be denied second time around: "The last race definitely went to plan. Starting second on the grid again, I managed to get an early pass on Freddie Gale. I had Mark Kinch gaining on me in intervals, but I managed to hold him off and bring home the win." Kinch (Team ICBL) would not finish second, after a five-second jump start penalty dropped him six places to eighth, indicative of how tight Swift Cup action is.
Thompson was promoted to second, after a spirited drive from last on the grid – he was fourth by lap five - with former Bushy Park saloon car lap record holder Gill third: "I haven't raced here in over 20 years, so it's almost like a new experience for me."
Seventh place for Peyrau was sufficient to give him pole for race three, the grid based on points scored in the earlier races, ahead of Wood, Read, Daryl Clarke (Team Digicel) and Summerbell. Once again Peyrau got his head down and edged ahead, while the others engaged in a wheel-to-wheel battle, Wood and Read filling the podium places, with Summerbell claiming his best result of the day, fourth: "This is a great series. All of the guys are within half a second of each other, so that makes for some close racing. The track is amazing. It's very technical, and it's been a lot of fun."
Peyrau now leads the Swift Cup by 24 points from Thompson, who failed to score in race three, after he got stuck in third gear, a legacy of his earlier incident. Wood has climbed from sixth to third, with Summerbell the highest-placed newcomer in eighth.
In SR3 Cup qualifying, Sean Maloney claimed pole position, with brothers Mark and Stuart sandwiching Guyana's Mark Vieira in third place and just half-a-second covering the four. Stuart Maloney got the best of the start, leading from Marks Maloney and Vieira, with brother Sean in close attendance. A scary low-level flight across the grass exiting the MQI Bullet dropped Mark Maloney to fifth on the second lap, however, where he finished. Stuart Maloney took the lead from brother Sean just before half-distance, then Sean spun on the final lap, creating the first tri-nations podium in the SR3 Cup, Vieira second for Guyana, with Ryan Gonsalves of St Vincent & The Grenadines third.
Allan Kinch, who had beached his Radical on a kerb at the W's hairpin a lap from home in race one, was on pole for the reversed grid race two, ahead of newcomer Barry Gale, David Simpson and Mark Maloney. The fast-starting Sean Maloney was ahead by the end of lap one, however, and stayed there, Mark and Stuart completing an all-Maloney podium. Vieira spun out of third at the W's on lap five, while Simpson was a career-best fourth, after keeping the vastly more-experienced Gonsalves at bay lap after lap.
For the final race, with the grid based on points scored, Stuart Maloney sat ahead of brothers Sean and Mark, with Vieira and Gonsalves next up. The pole-sitter claimed his second win of the day from brother Sean, with Vieira a delighted third; behind them, two thrilling race-long duels were settled in the closing stages – Gonsalves finally found a way past Mark Maloney two laps from home for fourth, while Simpson pulled off a fine pass on Kinch at the Dipper on the last lap to finish sixth.
Suzuki Challenge Series, round 2 (May 16/17)
Swift Cup Race 1: 1st Ryan Peyrau – T&T (Team Suzuki); 2nd Josh Read (Team Massy United Insurance); 3rd Karl Waterman (Team Williams Industries); 4th Jason Parkinson (Team Infra Rentals); 5th David Summerbell Jnr - JAM (Team Simpson Finance); 6th Daryl Clarke (Team Digicel); 7th Kurt Thompson (Team Glassesco); 8th Mark Kinch (Team ICBL); 9th Sean Gill (Team Suzuki); 10th Ryan Wood (Team Digicel); 11th Freddie Gale (Team Gale's Agro Products); DQ Mark Thompson (Team Rock Hard Cement) Race 2: 1st Wood; 2nd M Thompson; 3rd Gill; 4th Clarke; 5th Summerbell; 6th Read; 7th Peyrau; 8th M Kinch; 9th Waterman; 11th F Gale; dnf – Parkinson Race 3: 1st Peyrau; 2nd Wood; 3rd Read; 4th Summerbell; 5th Clarke; 6th Waterman; 7th Gill; 8th M Kinch; 9th K Thompson; 10th Parkinson; 11th F Gale; 12th M Thompson
SR3 Cup Race 1: 1st Stuart Maloney; 2nd Mark Vieira - GUY; 3rd Ryan Gonsalves – SVG; 4th Sean Maloney; 5th Mark Maloney; 6th David Simpson; 7th Barry Gale; 8th Allan Kinch Race 2: 1st Sean Maloney; 2nd M Maloney; 3rd Stuart Maloney; 4th Simpson; 5th Gonsalves; 6th Vieira; 7th A Kinch; 8th B Gale Race 3: 1st Stuart Maloney; 2nd Sean Maloney; 3rd Vieira; 4th Gonsalves; 5th M Maloney; 6th Simpson; 7th A Kinch; 8th B Gale
Positions after round 2
Swift Cup: 1st Peyrau 107 points; 2nd M Thompson 83pts; 3rd Wood 74pts; 4th Clarke 62pts; 5th Read 59pts; 6th Kenrick Husbands (Team Williams Industries) 40pts; 7th Barry Gale (Team Gale's Agro Products) 36pts; 8th Summerbell 32pts; equal 9th K Thompson and Waterman 25pts; 11th Gill 23pts; 12th Parkinson 13pts; 14th M Kinch 12pts; 15th Jean-Philippe Mongaillard – FRA (Team Suzuki) 10pts
SR3 Cup: 1st Sean Maloney 120pts; 2nd Stuart Maloney 108 points;  3rd M Maloney 96pts; 4th Gonsalves 75pts and Vieira 75pts; 6th Simpson 42pts; 7th A Kinch 40pts; 8th B Gale 14pts and Jim Parr – USA 14pts
For more information on the Suzuki Challenge Series:
Web site: www.suzukichallengeseries.com
Facebook.com/suzukichallengeseries
e-mail: suzukichallenge@itcbgi.com
For further media information, contact: Suzuki Caribbean
e-mail: suzukichallenge@itcbgi.com